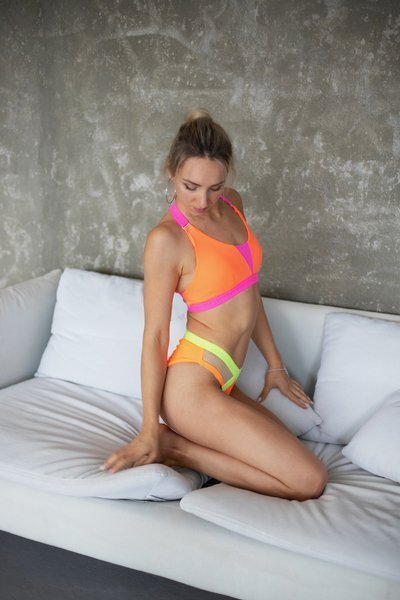 KIM pole dance shorts are 100% spice and comfort. When you look in the mirror after wearing them, you'll know that this is it. Love at first insertion. Advantages? Shorts perfectly emphasize the figure, do not stick out, and the soft, elastic material guarantees resistance to abrasions and tearing. How is it? Will you start paving the way with Hash?   The product is made of recycled econyl (learn more about the material and click >> here <<). It is extremely soft, flexible and pleasant to the touch. Not only is it extremely comfortable, but it also fits the body perfectly.
But you don't have to believe us, see for yourself. Find out more about pole dance shorts:  
• Mesh on the side to choose from: black, nude or red, brocade purple
• Soft rubbers, they do not stick
• Lovely design
• Nice-to-touch material that works with the body,
• Polish production material,
• Hand wash in lukewarm water,
• If the given size does not suit you, please contact us to choose the right size for you: info@hash-store.com
• In the absence of goods in stock, the production time is usually 2-3 working days and a maximum of 10 working days.  
If you dream of other colors or some kind of replacement, or maybe you want to add a personalized graphic / inscription or the logo of your school? Email us: info@hash-store.com We do impossible things right away for miracles you have to wait a bit
HAND WASH IN LUKEWARM WATER
| Size | bust circumference | waist circumference | hip circumference |
| --- | --- | --- | --- |
| XS | 80 - 86 cm | 57 - 61 cm | 86 - 89 cm |
| S | 86 - 90cm | 62 - 66 cm | 90 - 93 cm |
Instrukcja mierzenia

Aby dokładnie ustalić rozmiar niezbędny do zamówienia odzieży należy zmierzyć się i porównać wymiary swojego ciała z wymiarami podanymi w tabeli.
Prosimy dokonywać pomiarów jedynie na bieliznę. Pomiary wykonujemy taśmą centymetrową stojąc w pozycji wyprostowanej i swobodnie oddychając.
Wzrost - mierzymy w linii prostej od wierzchołka głowy do stóp stojąc bez obuwia, ze złączonymi stopami.
Obwód klatki piersiowej - mierzymy poziomo w największym jej obwodzie.
Obwód pasa - mierzymy poziomo w miejscu największego przewężenia tułowia.
Obwód bioder - mierzymy poziomo wokół pośladków w największym ich obwodzie.
Długość boczna - mierzymy wzdłuż bioder, od talii, do stóp.
Obwód pod biustem - mierzymy poziomo poniżej piersi.
*Jeśli jesteś na granicy rozmiarów np. S/M polecamy wybrać większy rozmiar - W tym przypadku rozmiar M.