FAQ
CONTENTS:
Where do You ship your products?
We are shipping to most countries in the world, so our customers can be happy with our products all over the globe. We are currently not selling our products neither to Russia, or Belarus.
If you are planning to order one of our products from a country outside European Union, we encourage you to contact us first and check if there are tariffs to be paid.
If your country is not on our shipping list, please contact us before paying for your order: info@hash-store.com
Do you offer free shipping?
Shipping is on us if you make an order of 399 PLN or higher. Free shipping is offered only in Poland. You can choose courier or paczkomat service by Inpost.
Do you offer cash on delivery?
We do not offer cash on delivery. We prefer payment prior to shipping, so we can provide high-quality of our products and reliable shipping.
How long do I wait for the shipment?
As sellers, we do not have a direct impact on courier companies' performance. Shipping in Poland usually takes between 2 to 3 business days. In the case of international shipping, you can expect your package in between 4 to 10 business days. It is worth noticing, that shipping time may vary from standard, especially in the case of extraordinary circumstances. We are putting our efforts toward the best possible cooperation with shipping companies, to ensure the quickest delivery possible.
Can I visit you directly? Do you have s brick and mortar store?
Our business model is based mainly on online sales, however, you can visit us, and try our products in our Showroom, located on ulica Polna 37, Nadolice Małe.
We kindly ask you to make an appointment at least 2 business days prior to the planned visit. That way we can ensure the best service quality.
We strongly encourage you to check our website for planned sales and other special events. That way you can buy desired products at better prices!
Is it possible to buy outlet outfits via an online store?
Yes, it is possible to order outlet outfits on our separate website: hash-store-outlet.com Please direct all outlet inquiries directly to this website.
Where do I put my discount code?
To enter your discount code, you have to enter your cart. Below the summary, you will find a bracket, titled: Do you have a discount code? As soon as you enter a valid discount code, the system will automatically include the discount in the calculations and correct the amount to be paid.
Can I get a discount on your products??
Of course! We cooperate with many pole dance influencers, you can find discount codes on their social media. Besides that, during sales you can find discount codes at the top part of our website. Sign up for our newsletter to gain a discount code for your first order! Follow our Instagram and Facebook to be updated about discounts at all times!
Where can I find those discount codes on your influencer profiles??
Influencer discount codes are always posted on the social media profiles of said influencers, you will not find those on our website. We can however hint to you, that we regularly post photos of our favorite influencers on our social media profiles. Follow our Facebook and Instagram and stay tuned for further discount events.
Can I use a discount coupon and discount code simultaneously?
Yes, you can use both your discount coupon and discount code during checkout. To do so, enter a discount code in the appropriate table below the cart (picture below). Next, while checking out choose "gift card" as your form of payment. Activate your gift card by entering the card's PIN number next.
That way, You can use both a discount coupon and a discount code.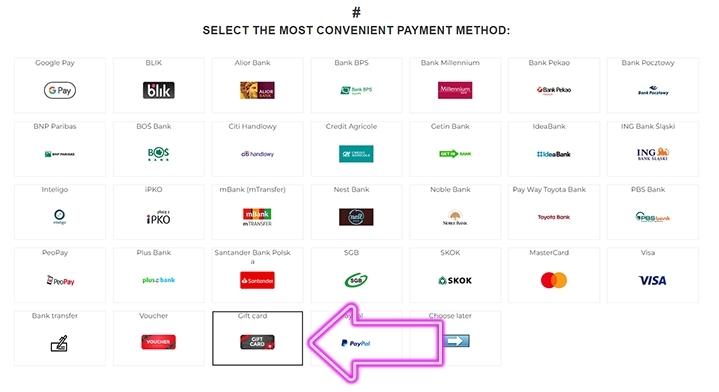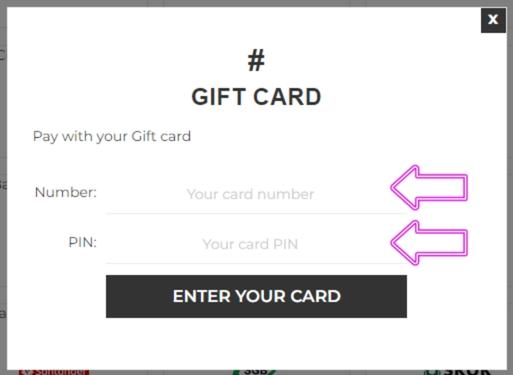 I don't have time to wait for my voucher. Can I get a digital version of it?
Absolutely! Just inform us about your need in the bracket titled: "comments to order" during checking out. After checkout, you will receive a digital version of your voucher. We will send it within 1 business day to the given e-mail address.
What is the waiting time for a physical Voucher??
The physical version of the voucher is sent within 1 business day after receiving the payment. To this should be added about 2-3 business days for delivery by courier companies. In the case of an electronic voucher, an e-mail with the Voucher is sent within one business day.
I would like to buy a Voucher for more than 400 PLN. Are those available??
Our standard Vouchers are sold in the following values: 100, 150, 200, 250, 300, and 400 PLN. If you want to get a Voucher for a higher amount, do not hesitate to contact our customer service department. We will be more than happy to come up with an adequate solution for your needs.
What is that smell on your products? Is it some kind of perfume? Can I buy those?
It is our very own scent, designed to magnify the satisfaction of receiving new HASH products.
It often reminds us an icing sugar, fudge candy, or waffles. You can get your own vial of that lovely smell on our website HERE
How to choose a size for yourself?
To choose the right size for yourself, we encourage you to use our size chart, which is located next to each product (graphics below). See the table for step-by-step measurement instructions to help you choose your perfect size. Click the "Choose the right size" option (graphics below) and go ahead and start measuring!

Are there slots for inserts in the tops?
Yes, most of our tops have slots for inserts, which are included with the order. Products to which we do not add inserts are Top Mohito, Top Triangle, and Bathing Bodysuits.
Which shorts are better for high-waisted or low-waisted skinny?
All our shorts are great for the pole, regardless of waist height. Both types of shorts have their own unique features and benefits. For those who like to cover their belly button, high-waisted shorts will be more comfortable, but as you get more engaged into pole – dancing, low-waisted shorts may also come in handy due to their usefulness in more complicated aerobatics. Remember, that our products ought to fit your own needs best. Choosing between low-waisted and high-waisted shorts depends on your preferences, style and comfort after all. You can experiment and try both types to find the one that best suits your needs and preferences.
How do I match shorts and tops?
There are no strict rules when it comes to matching your outfits. We recommend matching products made of similar fabrics and ones of similar colors. Experiment with your outfits if you are not sure about choosing one! Remember, that your own feeling about your looks is what matters the most. Get carried away with your outfits from time to time :)
Would you gift-pack my outfit if I asked?
Yes, we do offer gift packing. Just select "gift-packing" so we can know, that you want your order prepared that way.
It price of the gift package is 19.99 PLN. If you only want a single part of your order gift-packed, write us an e-mail. When you select the "gift-packing" option, we implicitly pack the entire order for a gift.

I like your outfits, but am looking for a personalized item. Do you personalize your products?
Yes, we do offer personalized items. The first thing we need is your tailoring dimensions. Enter those in your order's comments and write us an e-mail to make sure, that we get those.
As soon as we get your message, we will contact you, and make an interview about your needs.
After that, we will begin preparing the project of the outfit. You will have to accept both the project and estimate, so we can begin production of your new outfit.
Do you design personalized outfits for competition?
Of course, we regularly perform such projects. If you want a custom outfit for a competition, write us an e-mail. The more information about your expectations you give us in that e-mail, the better. Details like the theme of your performance, preferred colors, cutting, style, and other details would be very useful during the design process.
 Remember that the process of creating a competition outfit takes time. Therefore, we recommend contacting us well in advance of the planned event (at least 2 months before). This way, we will ensure an appropriate time margin for designing, selecting materials and sewing the outfit. Otherwise, if you contact us too late, there is a risk that we will not be able to complete your order on time. After receiving your e-mail, our team will contact you as soon as possible to discuss the details of the project and provide a preliminary cost estimate. Please note that competition uniforms require payment in advance. We start sewing only after we receive an e-mail confirmation from you that you accept the project and the price. We invite you to visit our website and check the "Competition clothes" tab in the bar at the bottom of the page. There you will find a gallery of the projects that we have created for other clients.
How can I personalize my outfit?
In the notes to the order and to our email address -> info@hash-store.com with a personalization request. Since it can concern almost everything (model, color of material, elastics and accessories, as well as size and tailoring), it is important that the e-mail contains as many details as possible regarding your expectations regarding the appearance of the product. We will try to respond as soon as possible, informing you about the possibilities of personalization. After confirming the changes and making the payment, we will proceed to fulfill the order. Please note that personalized products cannot be returned or exchanged as they are made especially for you.
What is the cost of personalization?
The cost of personalization depends on several factors, such as the selected material and the extent of changes you want to make. When it comes to minor changes, for example, changing the color or other minor alterations that do not require changing the template, such changes are free! However, if you want to make major changes, this may involve additional costs. In this case, in order to obtain accurate information on the cost of personalization, we recommend contacting us directly by e-mail or telephone.
The personalized product does not meet my expectations. Can I request a rework/replacement?
We are sorry if the personalized product does not meet your expectations. We would like to emphasize that before proceeding with the order, please confirm and accept the project, taking into account all details of personalization. It is our policy once your order has been confirmed and the production process has started, unfortunately, it is no longer possible to make changes.
From what amount am I entitled to a free gift?
We offer several free thresholds that depend on the amount of the order. For example, if your order is between PLN 260 and PLN 349.99, you will receive our thigh straps that fit perfectly under shorts. The higher the order amount, the more attractive freebies we offer. We encourage you to check out our gift thresholds and use this opportunity to receive additional products as a bonus to your order. The graphic below shows where we add gifts

Which free gift can I choose?
We're constantly updating our freebies, so keep an eye on our page for the latest additions to your orders. Currently, from various free tiers, we offer many interesting options, such as our HASH lotion, which you can use even before training on a tube, hoop, or silk. For more expensive orders, we offer better gifts, such as Virgin High Cut Shorts, choker, KEEPGRIP and many more. Our giveaway offer may change depending on product availability.
Are free products full of value? Can I keep the part of my order when returning it?
The gifts we offer are full value and add value to your order. However, when returning part of an order, there are a few conditions regarding how to keep the gifts. If the return of products does not affect the crossing of the threshold at which you received a free gift, you can keep it. In the event that the return of products exceeds the threshold, we deduct the full value of the free gift from the amount of the returned products. This is how we ensure fairness and balance for our customers.

How can I return an order?
To generate a return, log in to your account and go to the returns panel. There, select the product you want to return. If you want to get a full refund, make sure that returning your product does not imply returning your free gift. If it does, and you do not want to pay for your gift, send it back to us as well. If you fail to do so, we will deduct the value of your gift from your return. Then, in the next steps, select the option "I will use the store's shipments" (available in Poland only) and specify the form of refund you prefer. Generate return documents with address labels, print and sign them. Place the packed goods together with the receipt and the return document in a cardboard box dedicated to shipping and close it carefully. You can use the cardboard box in which you received your order, as long as it meets the required dimensions (maximum dimensions: 60 cm x 50 cm x 35 cm, maximum weight: 30 kg). The refund will be made in the form of your choice within 14 business days* from the moment we receive the returned products. Usually, this process is faster. Please note that we may withhold your refund until we receive the returned items or proof that you have sent them back.


Can I exchange the outfit for a different size? The site only allows the return of products.
Of course, it is possible to exchange the outfit for a different size. To do this, select the standard return option on our website. Then, in the order notes, enter what size you would like to exchange the product for. Our customer service team will contact you with any concerns or questions regarding the exchange.
Is a receipt necessary to return an order?
Yes, the receipt can be in physical form, scan, or a photo. It's important that we have proof of purchase so we can process your return and refund.
How long do I have to return?
According to applicable law, you have 14 days to withdraw from a distance purchase without giving a reason. To facilitate the return process, we provide a simple returns creator in our store, which allows you to send a return package to us in Poland.
Can I make an exchange after the deadline for making it has passed?
Unfortunately, after the deadline, the product cannot be exchanged or returned.
Is return shipping free?
Returns of orders are free in Poland, which means that you do not incur any costs related to the return shipment. However, outside Poland, in accordance with our regulations, the cost of returning the order from abroad is on the customer's side. In the event of an exchange, the new product will be sent to the indicated address at the store's expense, which means that you will not incur any additional costs.
When will I get a refund for a returned order?
The refund for your returned order will be made within 14 business days from the moment you receive the package with products that do not show any signs of use and the receipt confirming the purchase. You can send a receipt in the form of a scan or photo to our e-mail address -> info@hash-store.com.