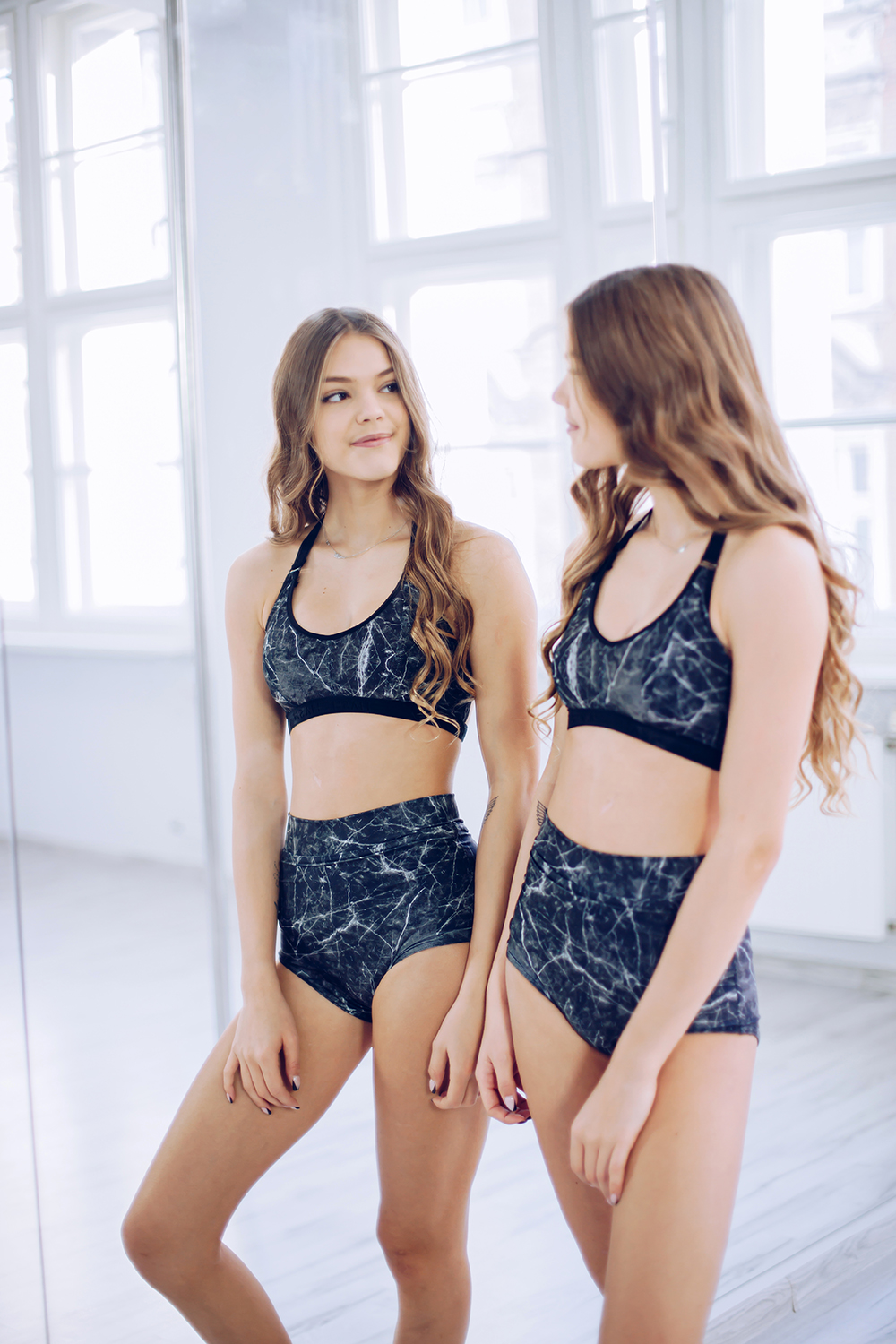 Do you agree with us that pole dance shorts must be comfortable and fit perfectly on your figure? Otherwise they will lie, but… in the wardrobe! That is why we have designed extremely comfortable panties, which are your number 1! They will perfectly emphasize not only your strengths. Their flexible and extremely pleasant material has one more advantage - the printing on the material is made digitally. The fabric of Polish production is finished in accordance with the Oeko-tex Standard 100. We use water pigment inks. We fix the print with high temperature - without the use of any chemicals
• Breathable sports material,
• Printed material without the use of any chemicals.
• compliant with Oeko-tex Standard 100
• Slimming cut • Nice in touch
• Hand wash in lukewarm water,
• If the given size does not suit you, please contact us to choose the right size for you: info@hash-store.com
• In the absence of goods in stock, the production time is usually 2-3 days, and a maximum of 10 working days
Email us: info@hash-store.com
We do impossible things right away for miracles you have to wait a bit :)
If you dream of other colors or some kind of replacement, or maybe you want to add personalized graphics / inscription or your school's logo?
Write to us: info@hash-store.com
We do impossible things right away for miracles you have to wait a bit :)
We make every effort to ensure that the colors displayed on the screen reflect the colors of our products. Both the colors of individual materials and the colors in the photos may differ from the actual ones - this is due to the variety of available computer equipment and different batches of material from which they were made.
HAND WASH IN LUKEWARM WATER
| Size | bust circumference | waist circumference | hip circumference |
| --- | --- | --- | --- |
| XL | 104 - 108 cm | 80 - 85 cm | 106 - 114 cm |
Instrukcja mierzenia

Aby dokładnie ustalić rozmiar niezbędny do zamówienia odzieży należy zmierzyć się i porównać wymiary swojego ciała z wymiarami podanymi w tabeli.
Prosimy dokonywać pomiarów jedynie na bieliznę. Pomiary wykonujemy taśmą centymetrową stojąc w pozycji wyprostowanej i swobodnie oddychając.
Wzrost - mierzymy w linii prostej od wierzchołka głowy do stóp stojąc bez obuwia, ze złączonymi stopami.
Obwód klatki piersiowej - mierzymy poziomo w największym jej obwodzie.
Obwód pasa - mierzymy poziomo w miejscu największego przewężenia tułowia.
Obwód bioder - mierzymy poziomo wokół pośladków w największym ich obwodzie.
Długość boczna - mierzymy wzdłuż bioder, od talii, do stóp.
Obwód pod biustem - mierzymy poziomo poniżej piersi.
*Jeśli jesteś na granicy rozmiarów np. S/M polecamy wybrać większy rozmiar - W tym przypadku rozmiar M.