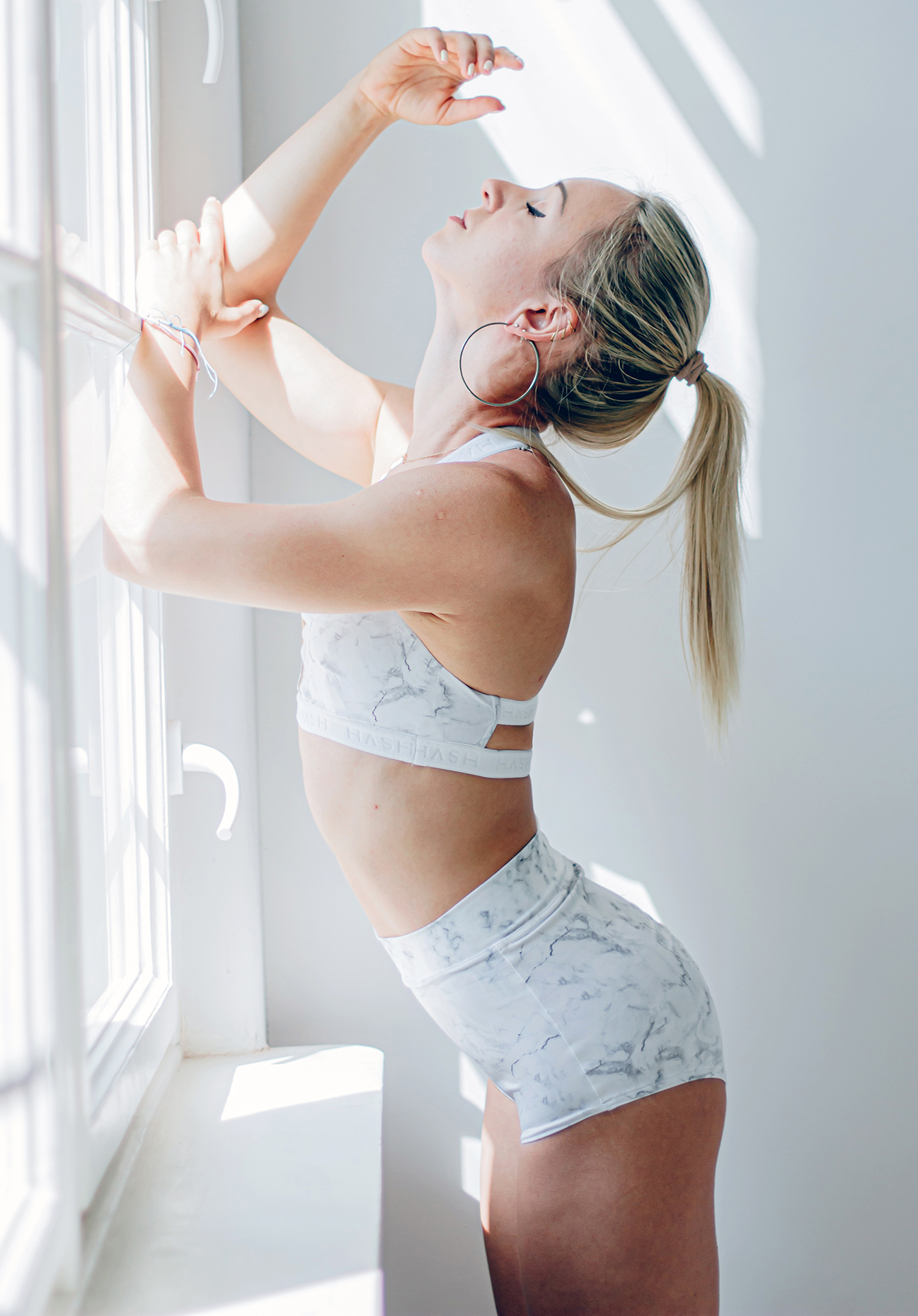 Do you agree with us that pole dance shorts must be comfortable and fit perfectly on your figure? Otherwise they will lie, but… in the wardrobe! That is why we have designed extremely comfortable panties, which are your number 1! They will perfectly emphasize not only your strengths. Their flexible and extremely pleasant material has one more advantage - the printing on the material is made digitally. The fabric of Polish production is finished in accordance with the Oeko-tex Standard 100. We use water pigment inks. We fix the print with high temperature - without the use of any chemicals
• Breathable sports material,
• Printed material without the use of any chemicals.
• compliant with Oeko-tex Standard 100
• Slimming cut • Nice in touch
• Hand wash in lukewarm water,
• If the given size does not suit you, please contact us to choose the right size for you: info@hash-store.com
• In the absence of goods in stock, the production time is usually 2-3 days, and a maximum of 10 working days
Email us: info@hash-store.com
We do impossible things right away for miracles you have to wait a bit :)
If you dream of other colors or some kind of replacement, or maybe you want to add personalized graphics / inscription or your school's logo?
Write to us: info@hash-store.com
We do impossible things right away for miracles you have to wait a bit :)
We make every effort to ensure that the colors displayed on the screen reflect the colors of our products. Both the colors of individual materials and the colors in the photos may differ from the actual ones - this is due to the variety of available computer equipment and different batches of material from which they were made.

WASH GENTLE AT 30°C

DO NOT HEATER DRY

DO NOT IRON

SPIN MAX. 600 ROTATIONS

WASHING TIME UP TO 30 MINUTES
GRUPA KOLORU

:

PRINT

,

BIAŁY
| Size | D - waist circumference | E - hip circumference |
| --- | --- | --- |
| XS | 57 - 61 cm | 86 - 89 cm |
| S | 62 - 66 cm | 90 - 93 cm |
| M | 69 - 75 cm | 94 - 98 cm |
| L | 76 - 79 cm | 100 - 105 cm |
| XL | 80 - 85 cm | 106 - 114 cm |
MEASURING INSTRUCTIONS
To accurately determine the size necessary to order clothing, measure yourself and compare your body measurements with the dimensions given in the table.
Please measure for underwear only. We take measurements with a centimeter tape while standing upright and breathing freely.
 


TOP:
B - bust circumference
C - underbust circumference

SHORTS:
D - waist circumference (at the level of the navel)
E - hip circumference (circumference in the buttocks at the widest point)

BODY:
A- height
B - bust circumference
C - underbust circumference
D - waist circumference (at the level of the navel )
E - hip circumference (circumference in the buttocks at the widest point)
G - torso height (from neck to pubic bone)

Thigh straps:
F - thigh circumference at the widest point


*If you are on the border of sizes, e.g. S/M, we recommend:

in the case of eco-leather, spark - a larger size
in the case of velor - smaller size