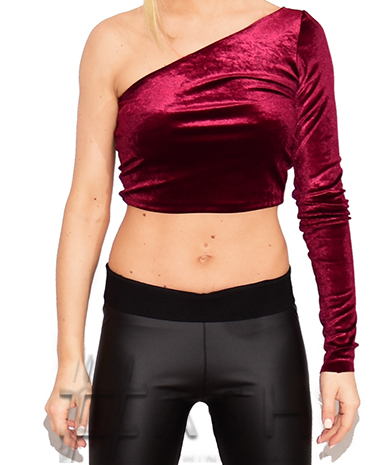 ABOVE TOP has been sewn with people in mind who take what they want from life! Are you one of these people? Do you like being in the spotlight? Confidence is your biggest advantage? ABOVE must be yours! :) Find out more about the details:
Top on one shoulder
Ideally suited for many styles
Must have your wardrobe
Must have Twojej garderoby
Nice to touch material
Hand sewn in Wroclaw
Attention! For hand-made products, the production time of orders may be extended. For more information, please contact the office: info@hash-store.com
Prać ręcznie
| Size | Obwód w biuście | Obwód w pasie | Obwód w biodrach |
| --- | --- | --- | --- |
| S | 96-85 cm | 23-65 cm | 88-91 cm |
| M | 80-82 cm | 63-65 cm | 95-100 cm |
| L | 86 -85 cm | 63-65 cm | 88-91 cm |
Instrukcja mierzenia

To jest przykładowy opis tabeli rozmiarów. W celu wykonania indywidualnego projektu skontaktuj się z działem graficznym IAI.
Aby dokładnie ustalić rozmiar niezbędny do zamówienia odzieży należy zmierzyć się i porównać wymiary swojego ciała z wymiarami podanymi w tabeli.
Prosimy dokonywać pomiarów jedynie na bieliznę. Pomiary wykonujemy taśmą centymetrową stojąc w pozycji wyprostowanej i swobodnie oddychając.
Wzrost - mierzymy w linii prostej od wierzchołka głowy do stóp stojąc bez obuwia, ze złączonymi stopami.
Obwód klatki piersiowej - mierzymy poziomo w największym jej obwodzie.
Obwód pasa - mierzymy poziomo w miejscu największego przewężenia tułowia.
Obwód bioder - mierzymy poziomo wokół pośladków w największym ich obwodzie.
Długość boczna - mierzymy wzdłuż bioder, od talii, do stóp.
Obwód pod biustem - mierzymy poziomo poniżej piersi.
Skorzystaj z porady naszej stylistki
Nie masz czasu na analizowanie kolorów sukienki czy szpilek, możesz skorzystać z naszej pomocy. Po prostu napisz do nas, przygotujemy dla Ciebie ofertę specjalnie.
Napisz do nas